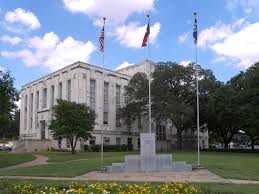 Falls County Courthouse, Marlin.
Your active engagement with the Texas legislature is needed at this critical time in the budget process.
The House Appropriations Subcommittee is recommending $0 for the Historic Courthouse Preservation Program.
It is not too late.  The Senate Finance Committee has yet to make final decisions, and members of the committee need to hear from you.  Members of the House Appropriations Committee can also make last-minute changes to the budget bill.
The Texas Historical Commission has requested $40 million for the historic courthouse restoration program over the next two years.  This would fund about 9 full restoration projects out of about 76 awaiting funding.
HERE IS WHAT YOU CAN DO TO MAKE A DIFFERENCE:
1.    Sign up to participate in Preservation Day on March 19th so that you can meet with legislators and let them know directly how important historic preservation and the courthouse restoration program is to Texas.  You can register here:http://www.preservationtexas.org/events/preservationday2015/
2.    Write to members of the Senate Finance Committee and tell them that you support the Texas Historical Commission's $40,000,000 exceptional budget item request for the Texas Courthouse Preservation Program.  (see below for addresses)
3.    Write to members of the House Appropriations Committee and tell them that you support the Texas Historical Commission's $40,000,000 exceptional budget item request for the Texas Courthouse Preservation Program.  (see below for addresses)
4.    Regardless of whether they serve on either the Senate Finance or House Appropriations committees, your local senator and representative also need to know that preservationists are paying attention and that their constituents support this request.  You can find your local legislators by following this link:  http://www.fyi.legis.state.tx.us/Home.aspx
5.    Below you will find some bullet points to consider including in any e-mails or letters – but be very clear up front that you support the Historic Courthouse Restoration Program!  More details on the program can found on the Texas Historical Commission website.
•    Legislators should support $40 million request courthouse restoration funding for 2016-17
•    Nationally recognized program; 63 successful courthouse restorations completed
•    76 courthouses are awaiting grants with a need totaling $225 million
•    The legislative appropriation in 2007 was $62 million; in 2013 it was $4.2 million
•    Average annual in-state GDP tied to courthouse program is $41 million (since 2001)
•    Average annual job creation as a result of courthouse program is 600 jobs
•    Program preserves architectural landmarks
•    Restoration makes use of existing public infrastructure
•    Modernizes technology and security to 21st century standards
•    Employs local contractors
•    Stimulates downtown revitalization in courthouse towns
•    Heritage tourism has a nearly $3 billion annual economic impact in Texas – courthouses are very important destinations statewide
TEXAS SENATE FINANCE COMMITTEE BREAKOUT GROUP
Sen. Kelly Hancock (North Richland Hills)
District 9: Dallas, Tarrant Counties
Phone:        512-463-0109
Fax:               512-463-7003
E-mail:        kelly.hancock@senate.state.tx.us
Sen. Juan "Chuy" Hinojosa (McAllen)
District 20: Brooks, Hidalgo, Jim Wells, Nueces Counties
Phone:        512-463-0120
Fax:              512-463-0229
E-mail:        juan.hinojosa@senate.state.tx.us
Sen. Joan Huffman (Houston)
District 17: Brazoria, Fort Bend, Harris Counties
Phone:        512-463-0117
Fax:               512-463-0639
E-mail:        joan.huffman@senate.state.tx.us
Sen. Lois Kolkhorst (Brenham)
District 18: Aransas, Austin, Burleson, Calhoun, Colorado, DeWitt, Fayette, Fort Bend, Goliad, Gonzales, Harris, Jackson, Lavaca, Lee, Matagorda, Nueces, Refugio, Victoria, Waller, Washington, Wharton Counties
Phone:        512-463-0118
Fax:               512-475-3736
E-mail:        lois.kolkhorst@senate.state.tx.us
Sen. John Whitmire (houston)
District 15: Harris County
Phone:        512-463-0115
Fax:               512-475-3737
E-mail:        john.whitmire@senate.state.tx.us
Other members of the Senate Finance Committee who should be copied on e-mails and aware of your support for the courthouse restoration program:
Sen. Jane Nelson, chair (Flower Mound)     jane.nelson@senate.state.tx.us
Sen. Paul Bettencourt (Houston)                   paul.bettencourt@senate.state.tx.us
Sen. Kevin Eltife (Tyler)                                   kevin.eltife@senate.state.tx.us
Sen. Robert Nichols (Jacksonville)                robert.nichols@senate.state.tx.us
Sen. Charles Schwertner (Georgetown)        charles.schwertner@senate.state.tx.us
Sen. Kel Seliger (Amarillo)                               kel.seliger@senate.state.tx.us
Sen. Larry Taylor (Friendswood)                    larry.taylor@senate.state.tx.us
Sen. Carlos Uresti (San Antonio)                    carlos.uresti@senate.state.tx.us
Sen. Kirk Watson (Austin)                                kirk.watson@senate.state.tx.us
Sen. Royce West (Dallas)                                  royce.west@senate.state.tx.us
TEXAS HOUSE OF REPRESENTATIVES APPROPRIATIONS COMMITTEE CONTACTS
Rep. John Otto, Chairman (Dayton)             john.otto@house.state.tx.us
Rep. Four Price (Amarillo)                              four.price@house.state.tx.us
Rep. Trent Ashby (Lufkin)                               trent.ashby@house.state.tx.us
Rep. Larry Gonzales (Round Rock)               larry.gonzales@house.state.tx.us
Rep. Sylvester Turner (Houston)                   sylvester.turner@house.state.tx.us
Rep. J. D. Sheffield (Gatesville)                     j.d.sheffield@house.state.tx.us
Questions? E-mail info@preservationtexas.org